Learn about the Colchester Burying Ground through text, video and virtual tour
Welcome to the Colchester Burying Ground.
The Burying Ground is one of the finest old burial grounds in Eastern Connecticut. The earliest recorded grave marker, though no longer standing, dates to 1713. The current readable gravestones range from 1728 to 1869 and were created by some of New England's most notable carvers. Through the skills of gravestone makers John Isham, from Westchester, Gershom Bartlett of Bolton, Josiah Manning and his sons, Obadiah Wheeler of Lebanon and more we are able to tell the story of our past through the names, dates and inscriptions left behind. The carvers used common symbols of the period to express the loss of the departed. Area carvers used primarily granite, marble, or brownstone. The brownstone was mined locally from the Middletown-Portland area. Though the brownstone, due to its composition is severely deteriorated, many of the remaining stones in the Colchester burying ground have survive over 200 years and are in excellent condition.
The Colchester Burying Ground is the resting place of many Colchester notable citizens including family members from the Bulkeley, Champion, Bigelow, Watrous, Isham can all be found in this ancient cemetery. The Bury Ground is also the site of the Discovery and Excavation of the Gershom Bulkeley Tomb. Learn about the fascinating story of the tomb and the Bulkeley Family history by exploring this web site.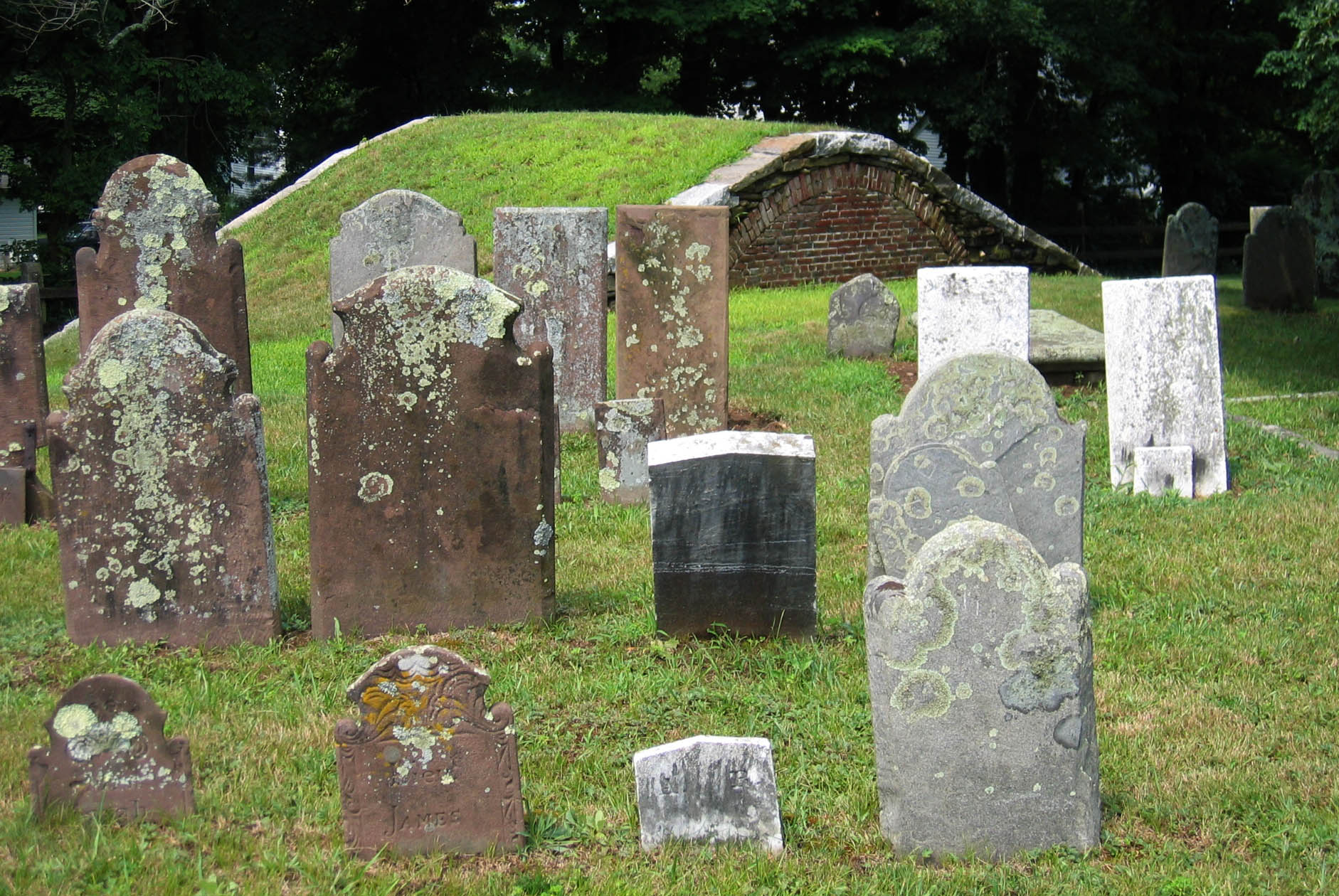 Click on this link to view an Introductory video: Colchester Burying Ground Introduction
Click on this link to take the 360 degree virtual tour of the Burial Ground: Virtual Tour of the Colchester Burying Ground
You can view or download the map and list of burials in the Colchester Burying Ground by selecting the button below. The map and list PDF is searchable using the magnifying icon at the bottom of the page, of viewing on the site, by dragging your cursor to the bottom of the page. The map and list is searchable by name or gravesite number by using the magnifying search icon. A new page will open where you can select the magnifying glass to open a search window. Enter your search criteria and all matching information will be highlighted on the pages.