Welcome to the

Colchester Historical Society!

We offer a diverse array of historical information including photographs, videos, documents and stories to increase awareness of the unique heritage and history of Colchester, CT and the surrounding region. From educational opportunities to fascinating museum exhibits, guided walks to the preservation and restoration of historic buildings, we welcome you to experience and explore the rich history of Colchester.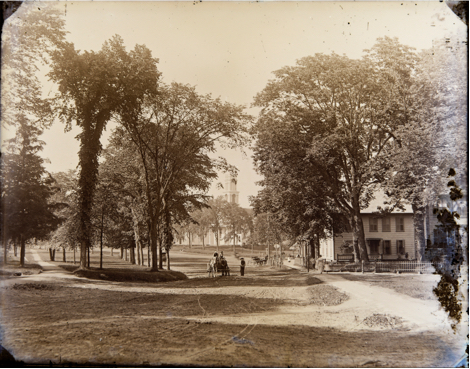 History Highlights
A recently discovered glass plate negative produced this rare photograph of Colchester, capturing a view of Main Street. On the right is the row of buildings known as Merchants' Row, with the clapboard building with the iron fence marking the northern end. The Colchester Congregational Church can be seen in the background between the trees. The Colchester Town Green is visible on the left. The photograph captures Colchester between 1888-1890, an era with horse-drawn buggies and elm trees lining Main Street.